Introduce(介绍)
Hello, everyone, I am an OpenWRT developer. A year ago, I released the version of OpenWRT-Virtualization-Servers v0.3.1 Now, I update the next version. V0.4.1 At the same time, I also posted it in Enshan Wireless Forum, all of which were published by me.
大家好,我是一个OpenWRT开发者,一年前,我发布了OpenWRT-Virtualization-Servers的v0.3.1版本。现在,我更新下一个版本。 V0.4.1 同时,我也发布在了恩山无线论坛,都是我发布的
Official Homepage
If you don't know what this is, go to my blog.
如果你不了解这是什么,前往我的博客专题内容
OpenWRT-Virtualization-Servers - CXT - Enjoy Life | 生活、技术、交友、分享 (cxthhhhh.com)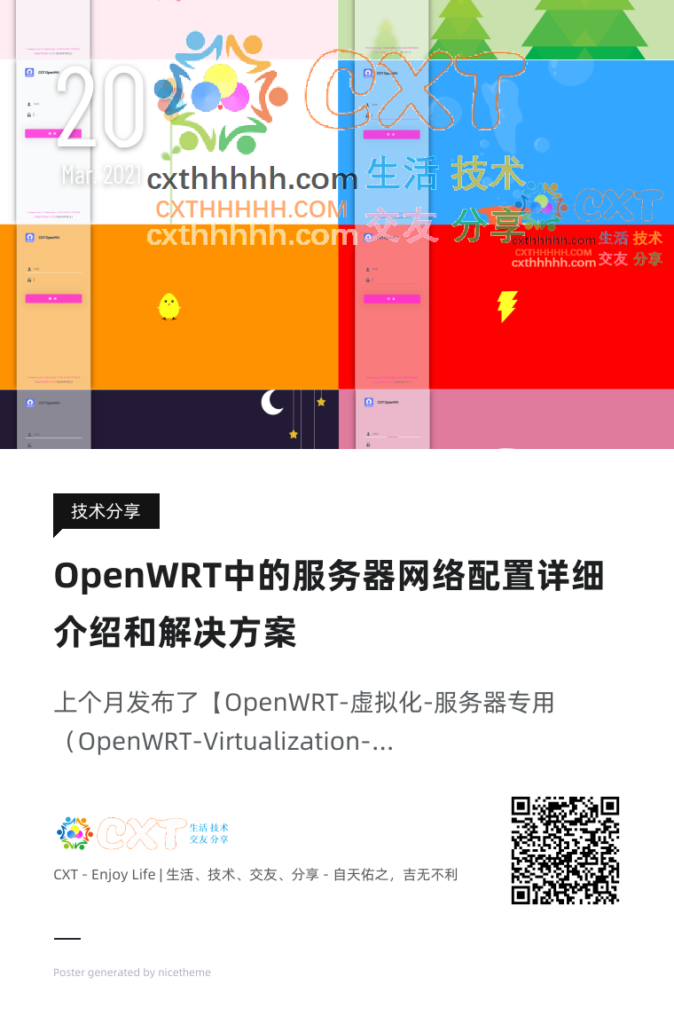 New version :
New version of: V0.4.1
time:27 days ago
MeowLove⁠ 565bf60
Status Success
Total duration3h 4m 30s
How to download it
The version follows one-click network reinstallation system-magic revision and network-reinstall-system-modify update.
Download the latest [OpenWRT-Virtualization-Servers] image:
1、 https://odc.cxthhhhh.com/
2、https://github.com/MeowLove/OpenWRT-Virtualization-Servers/releases/
Now, I want to introduce a download method of test development version v0.4.1:
Version v0.3.14 · MeowLove/OpenWRT-Virtualization-Servers@565bf60 (github.com)
Go to: Artifacts, download
OpenWrt_bin_generic_202110082250 496 MB
OpenWrt_firmware_generic_202110082250 426 MB
Now install it on your server.
You have finished it.
Reminder: For beta/development version, it is not recommended to apply to formal environment.
提醒:对于测试版/开发版,不建议应用于正式环境
Communication (channels, groups, forums)
Read the [Contact-us https://www.cxthhhhh.com/contact-us] page for more information.
Write at the end.
Enjoy the beauty of the moment!
If this article is helpful to you, please donate through the [Appreciation] button below, which will help us create and develop better.